Part 1
In this first part, a Devanagari keyboard is selected, and viewers are taught how to switch between keyboards easily.
Part 2
In this second part, we look at a few Hindi fonts and learn some essential keystrokes for typing in Hindi using the "Devanagari - QWERTY" keyboard.
Part 3
In this video we learn how to use Nisus Writer Pro to type in Hindi.
Last Updated: February 06, 2023
Typing in Devanāgarī (the Hindi script) on your Mac computer is simple to set up and relatively easy to master. Here I'll walk you through how to enable a Devanāgarī keyboard layout, conveniently switch between keyboards, and finally, what software to use for writing in Hindi. The following instructions have been written according to macOS Ventura (version 13.2). The steps may be slightly different if you are running an older operating system.
Enable a Devanagari Keyboard
Go to System Settings
Click Keyboard
Click Edit... next to Input Sources
Click the + sign
Select Hindi from the list of languages
Highlight Devanagari - QWERTY and then click Add
You're done!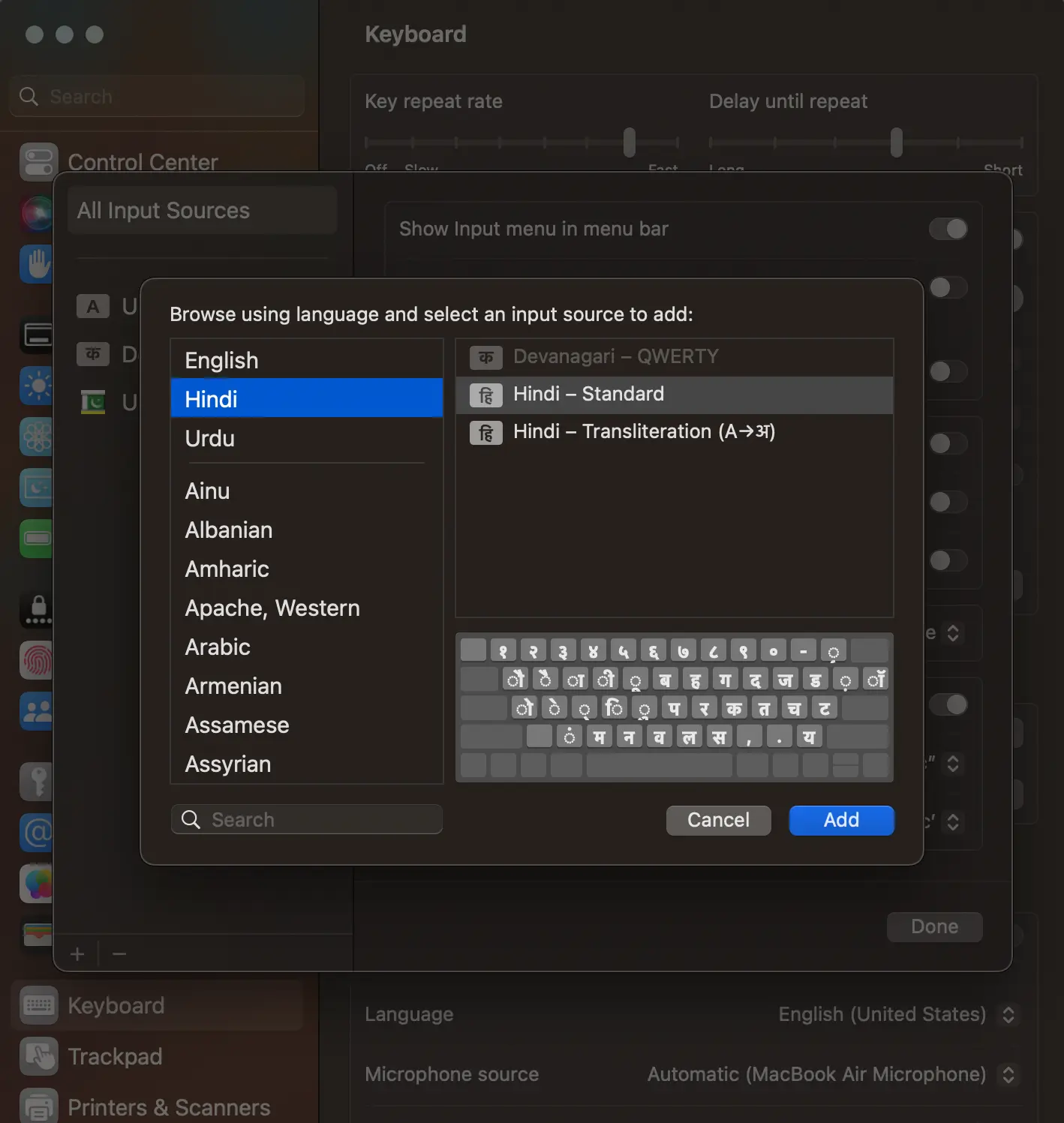 You'll notice that step 6 gives you three different keyboard layout options:
Devanagari — QWERTY
Hindi — Standard
Hindi — Transliteration (A→अ)
The Hindi — Standard option allows you to type faster in Hindi once you've invested the time to learn its layout. Devanagari — QWERTY is mostly phonetic, enabling you to start typing in Hindi with some degree of fluency from the get-go. Hindi — Transliteration (A→अ) requires you to write in Roman letters while the system guesses what word you're trying to write in Hindi (and it gives you several options). Overall, I would recommend starting with Devanagari — QWERTY.
 Create a System for Easily Switching Keyboards
Back in Input Sources (System Settings → Keyboard), make sure the box Show Input menu in menu bar is checked
Now click Keyboard Shortcuts (found just above Text Input on System Settings → Keyboard)
Select Input Sources from the list on the left
Check the box next to Select the previous input source
Select Spotlight from the list on the left
Uncheck the box Show Spotlight search
Note: This will disable the shortcut for spotlight search. If this is a shortcut you use, you'll need to create a new shortcut.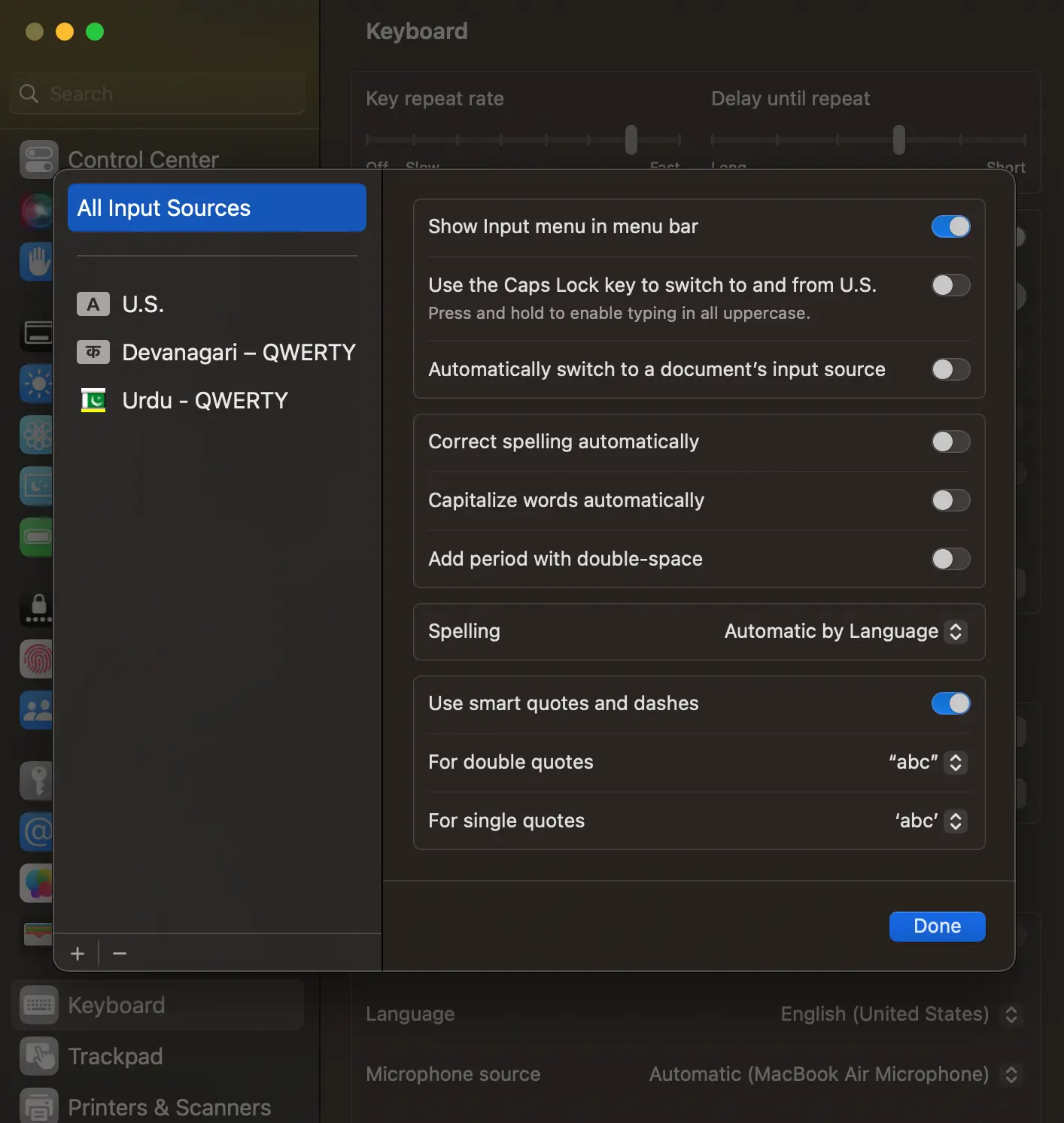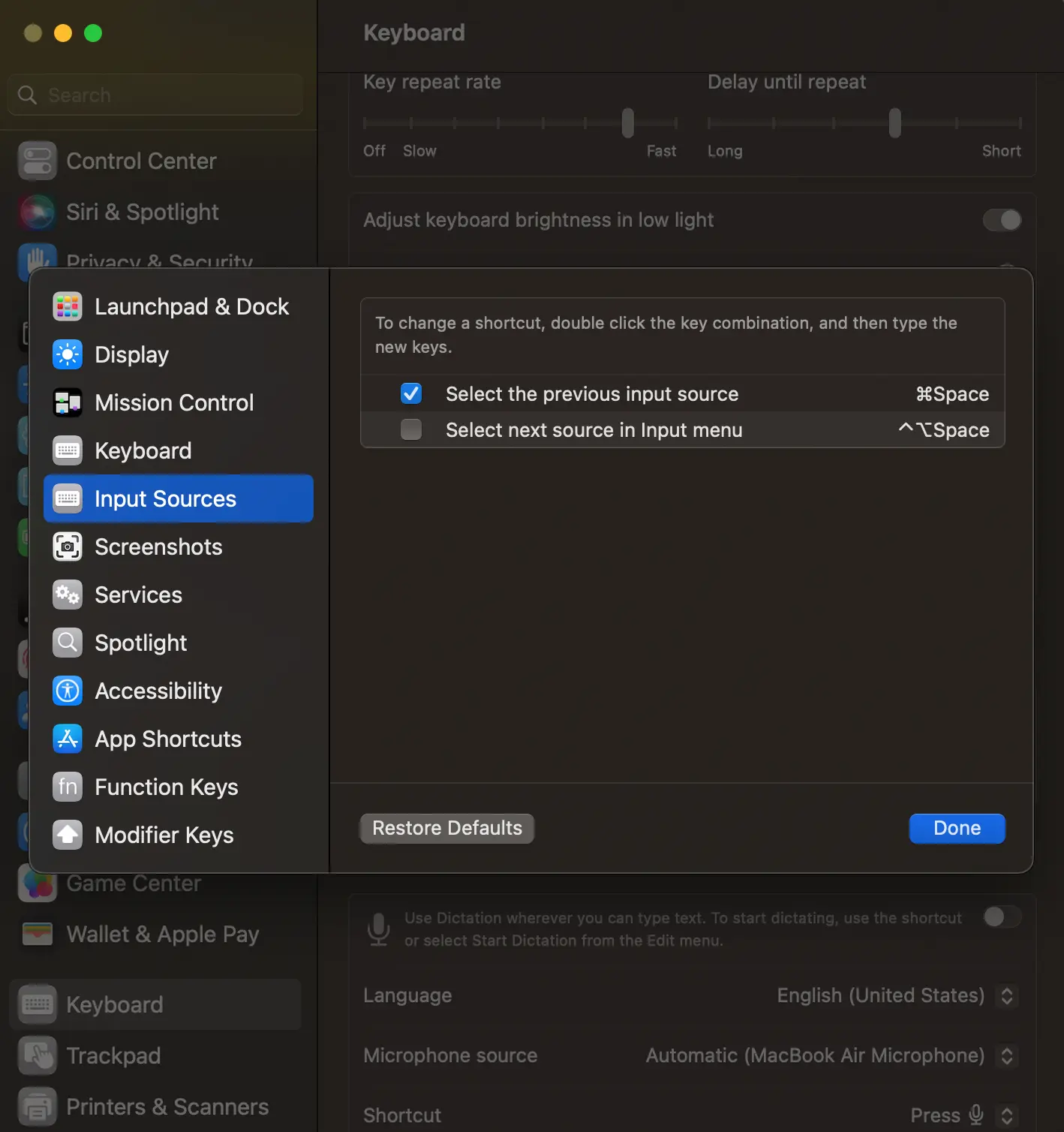 You can now easily switch between your English and Hindi keyboards. On your system menu bar (the very top of your screen), you should see an icon associated with the keyboard language you're currently using (e.g., it's क for Devanagari — QWERTY). To switch the keyboard, you can left-click on that icon and choose any other keyboard you have installed. Alternatively, you can press 'command' and 'space bar' together to swap back and forth.
Use the Keyboard Viewer
The macOS in-built Keyboard Viewer is the best way to learn the Hindi keyboard you've installed quickly. To see the Keyboard Viewer:
Click on the language icon in the upper tray (e.g., the क if you're currently using Devanagari — QWERTY)
Click on Show Keyboard Viewer
You can resize the Keyboard Viewer by dragging its corners
It'll show you all the possible keystrokes for whatever language you're currently using
Note: To see the full range of characters in the Devanagari — QWERTY keyboard, use the shift and option keys alone and together.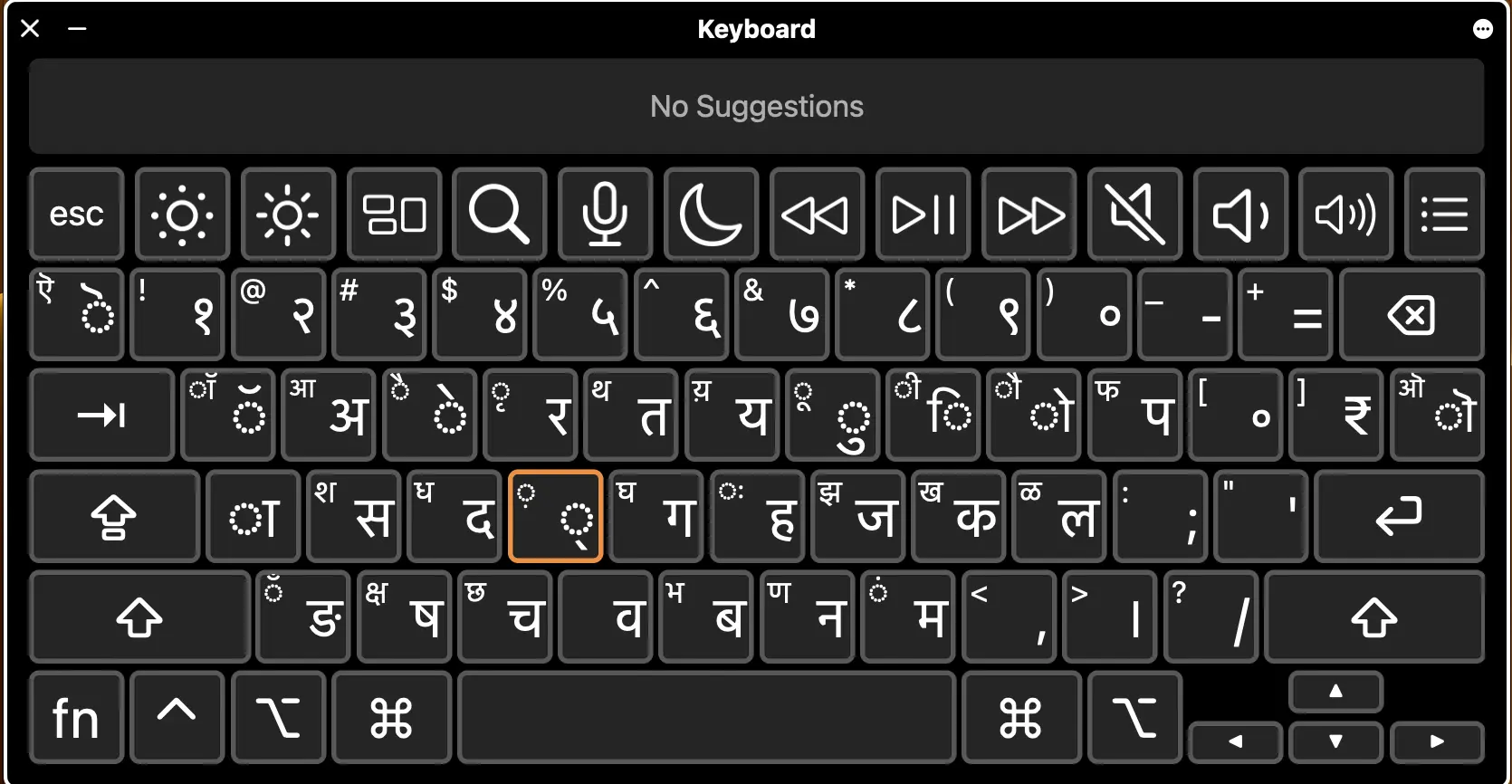 Software to Use for Typing in Hindi
All built-in programs within your operating system (macOS) will support typing in Hindi. This means you can freely switch to Hindi while composing an email in Mail, make a Hindi note in Stickies, Notes, or Reminders, or type in Hindi within any input field while surfing the web.
You can also use the in-built TextEdit and Apple Pages to create documents in Hindi, and these programs will allow you to format your text however you'd like.
However, if you're looking for something more powerful, especially if you want to combine the Hindi and Urdu scripts in a single document, Nisus Writer Pro is my suggestion. It's a premium software solution for word processing and is especially capable when working with multiple languages. It allows me to smoothly write in English, Hindi, and Urdu within single documents, using a wide range of formatting.
To make the font Devanagari MT (which comes with your operating system) the default within Nisus Writer Pro, you can do the following:
Within Preferences, go to Languages
Input your chosen Hindi font in Secondary Font (including the font size you prefer)
Within Switch Font, choose "Switch to secondary font"
Check the box "Also switch font size"
For Keyboard, choose "Switch to chosen keyboard" and then select your preferred Hindi keyboard from the dropdown
Next, to take advantage of the Nisus Writer Pro settings above, we need to create a way to switch between English and Hindi within Nisus Writer Pro. While you can still switch between languages using the system-wide shortcut (command + space), the automatic font style and size won't work within Nisus Writer Pro when you switch languages that way. Instead, we need to install what's called a Macro. You can go ahead and download the macro you need here if you like. Once you've downloaded the Macro, follow these steps:
Unzip the file
In Nisus Writer Pro, go to the Macro drop-down menu and then choose "Add Macro to Menu from File"
Once installed, go to Preferences and then Menu Keys
Assign shortcuts for Cycle Language Next and for Cycle Language Previous (I like to use (command + .) (command and period) and (command + ,) (command and comma)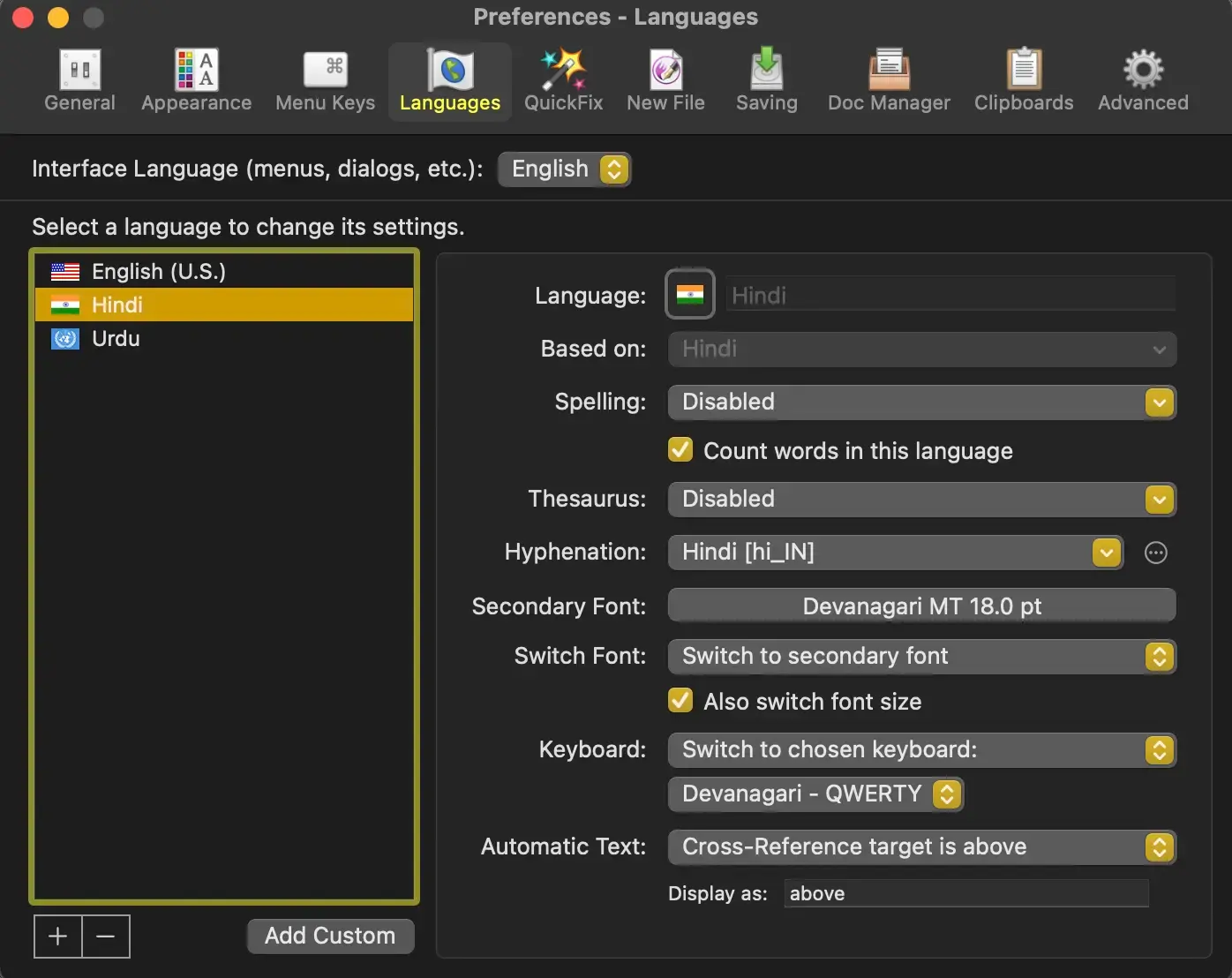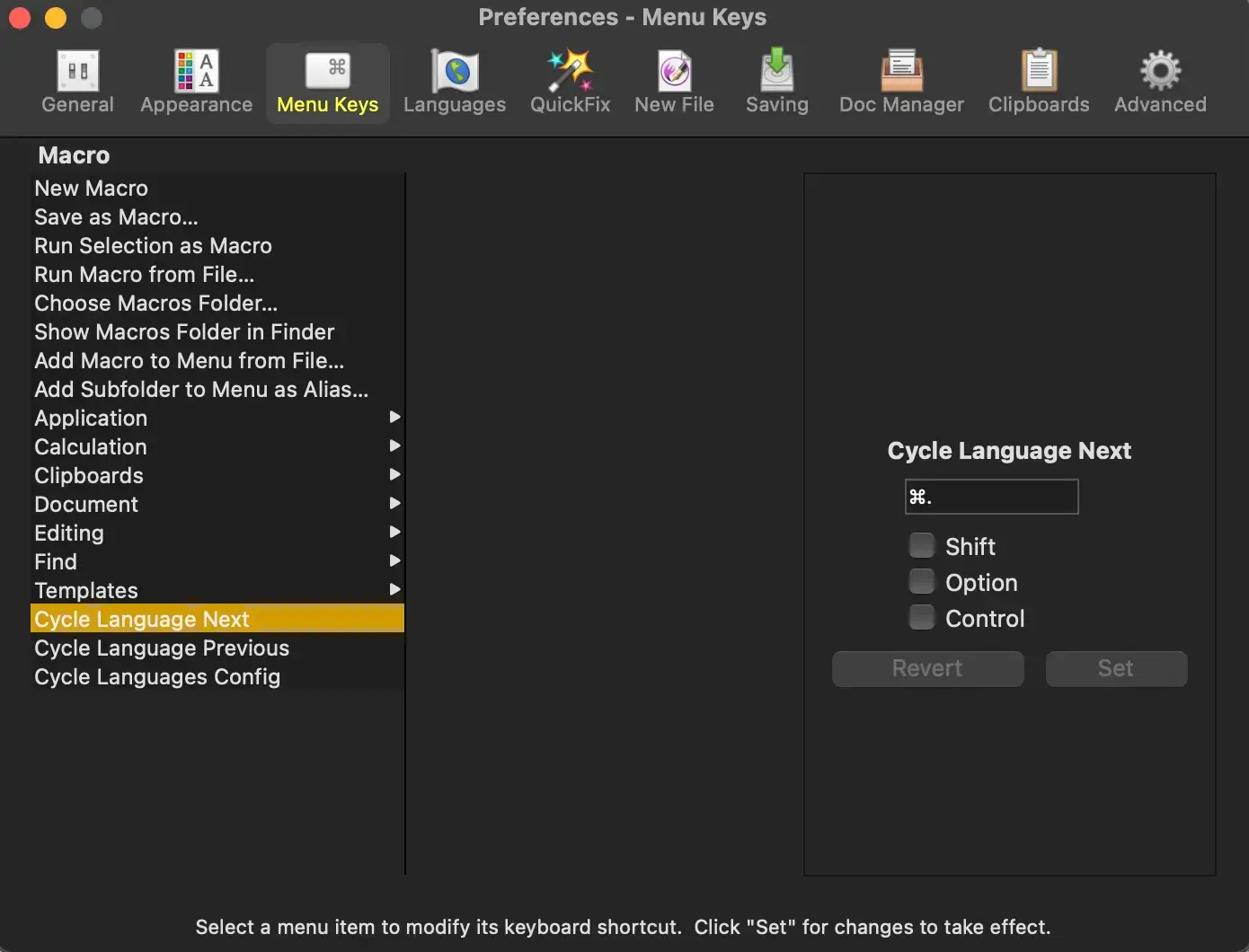 Putting It All Together
Assuming you've enabled the Devanagari - QWERTY keyboard, you'll find it's relatively intuitive, but there are a few quirks to learn.
Typing most consonants is straightforward. To type ग, you type "g." If you want an aspirated घ, type "shift+g" (the shift key adds aspiration to a consonant).
Most of the independent vowels are typed using the option key. For example, to produce independent इ, type option+i. To make it the long ई, type shift+option+i.
Finally, you can type conjunct consonants using the "f" key, which stops the inherent अ of a consonant. To produce the word हिन्दी, for example, type the following:
h
i
n
f
d
shift+i
As you're getting the hang of it, I'd recommend enabling Show Keyboard Viewer. Now you're on your way!